Tuesday, October 30, 2012
Back in the late 90s, the National Hurricane Center in Miami conducted a drill based on a fictional hurricane named Sandy. In the drill, the storm strikes the East Coast.
The fictitious storm was modeled after the Hurricane of 1938. The "Long Island Express" was a Category 3 hurricane that hit Long Island and killed nearly 800 people cause nearly $5 billion in damages.
The hurricane now projected to hit the New Jersey coast is being compared to the Long Island Express.
A
web page has surfaced from 1996
(the date is timestamped on the page's source code) with "texts of the simulated bulletins, forecasts, discussions and strike probabilities along with the hurricane's track were sent home with the seminar attendees. We named the simulated hurricane after Sandy, who incidentally was nine years old during the real Hurricane of 1938."
The page is posted on the Westchester Emergency Communications Association website. It received an update by Alan Crosswell on Friday, October 17, 1997.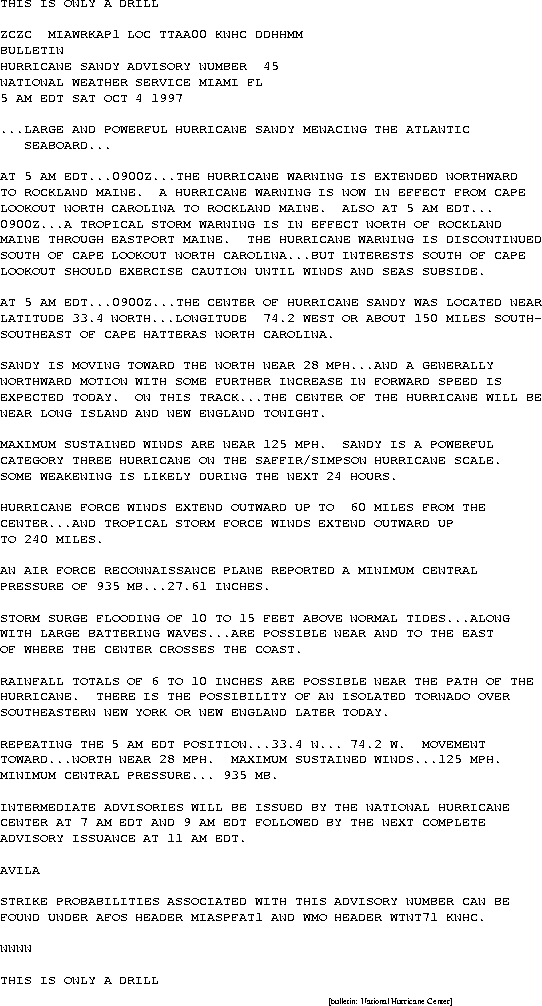 Source:
InfoWars.com
Subscribe Our Newsletter
Join over 3,000 people who get free and fresh content delivered automatically each time we publish.



Respected Readers:
To help us go ahead with the same spirit, a small contribution from your side will highly be appreciated.