Tuesday, September 11, 2012
Escape from New York
Filmed in 1981, this dystopian action film is set in a distant future in which America is riddled with crime and the island of Manhattan has been turned into a maximum security prison. At the beginning of the movie, Air Force One strikes one of the Twin Towers and bursts into flames. This shocking scene is believed to be the first hint that something like 9/11 could occur.
John Ashcroft Stopped Flying Commercial
In the spring of 2001 then Attorney General John Ashcroft stopped flying commercial and started traveling in chartered planes. In fact, he was on a chartered flight to Milwaukee on the morning on September 11. Rumors swirled that Ashcroft had known 9/11 was coming. Surprisingly, Michael Moore, director of Fahrenheit 9/11, was the one to squelch this rumor, pointing out that although Ashcroft flew on chartered planes for government business, he flew commercial at least twice in the summer of 2001. Maybe the person who warned Ashcroft off commercial flights had insider knowledge, but the AG may not have known about the impending attacks.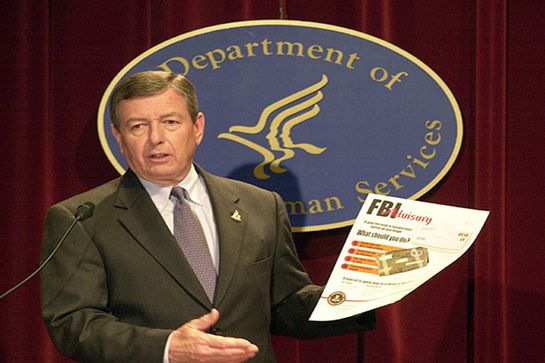 Wilco's Yankee Hotel Foxtrot
Wilco's album Yankee Hotel Foxtrol has many eerie musical parallels to 9/11. The cover art is reminiscent of the Twin Towers and it features tracks with names like "Ashes of American Flags" and "War on War" and lyrics like "Tall buildings shake/voices are scared/singing sad, sad songs." Both Wilco fans and conspiracy theorists like to point out these parallels when comparing the album to 9/11. Although delayed and finally released in 2002, the entire album was complete and streamed online in June of 2001.
The Lone Gunmen
In March 2001, Fox aired the first episode of The Lone Gunmen, which featured a geeky conspiracy buffs stopping a group of terrorists from flying a 727 into the World Trade Center. While the TV ending was a happy one, the parallels are still eerie. Co-creator Frank Spotnitz gave an interview weeks after 9/11, saying: "You assume that if you can think of it, being a Hollywood writer, then somebody in the government has thought about it already," which directly contradicts Bush's statement that "no one could have conceivably imagined suicide bombers [flying] U.S. aircraft into buildings full of innocent people."
Nostradamus
Everyone's favorite 16th century mystic predicted the events of 9/11 five centuries in advance in his Prophecies:
The sky will burn at forty-five degrees latitude, Fire approaches the great new city Immediately a huge, scattered flame leaps up When they want to have verification from the Normans.
This verse was widely circulated on the web in the days following the attacks, though often with "creative" revisions. For instance, one text attributed to Nostradamus mentions "two steel birds." Another mourns "two brothers torn apart by Chaos". Because the true text is so vague, it is hard to say where the "great new city" is or who the "Normans" are.
Willie Gardner's Amateur Art
Gardner drew this picture in 1988 and it seemed destined to drift into obscurity, relegated to the back room of a community center in Scotland, until the morning of September 11, 2001. Then, the meaning behind the late painter's picture became frighteningly clear: twin towers, two airplanes, flames, and a child crying. Almost everyone who has seen the picture since the tragedy calls it "chilling" or "spooky." "My father never showed any psychic qualities when he was alive," his daughter Aileen told reporters, "but it's like he predicted the future."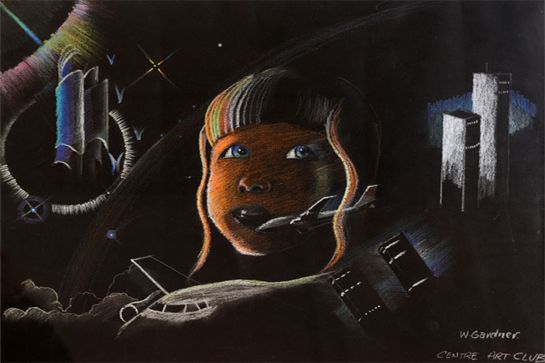 Pakistan Airlines
In 1979, Pakistan and the U.S. were Cold War allies, about to join forces to support the mujahedin effort to oust the Soviets from Afghanistan. Therefore, it was perfectly natural that Pakistan Airlines, the national carrier, would launch an ad campaign highlighting their passenger service to New York. Their ad is visually striking. But we in the post-9/11 generation know that when the shadow of a plane covers that much of the Twin Towers, a deadly collision is only seconds away.
The Simpsons Inside Job Episode
In 1997, an episode of The Simpsons aired that appeared to show a guidebook with the number 9, following by the Twin Towers, making a reference to 9/11.
Psychic Twins
Terry and Linda Jamison claim that they are able to harness their twin telepathy to give psychic readings and predict the future. The twins claim that they often fall into a semi-possessed state in which they do automatic writing; in one instance, they wrote a detailed account of 9/11 two years before the events took place. They went on local radio shows to share their message with the public at large, but were discredited for two years until the attacks proved their predictions horrifically true.
September 10th
On September 10th, a fifth-grader in a Dallas suburb calmly told his teacher: "Tomorrow, World War III will begin. It will begin in the United States, and the United States will lose." The director of the school, Rhonda Lucich passed the youngster's remark onto the FBI as it was not something one would expect an 11-year-old to say. Whether or not the FBI took the remark seriously is anyone's guess, but the next morning, September 11th, the prophetic boy was not in school.
Asbestos Advertisement
Before we realized that inhaling asbestos was incredibly harmful, it was lauded as a miracle fireproof substance. One advertisement for it showed the Twin Towers in the background and the text: "when the fire alarm went off, it took two hours to evacuate New York's World Trade Center." There was only fifteen minutes between the north and south tower strikes on the morning of September 11th, and the latter building certainly wasn't evacuated at that point. However, if the building manager knew that it could take that long to evacuate the building, why wouldn't he update the escape stairs rather than investing in deadly asbestos?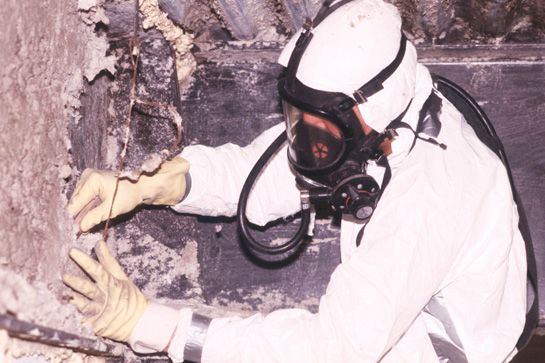 BONUS: Alex Jones
Conspiracy theorists believe Alex Jones had "predicted" the 9/11 attacks in July, 2001. But the truth is somewhat murky: while he did correctly guess that there would be an attack on American soil, possibly one involving Bin Laden and the WTC, not everyone counts this as a prediction. As a poster on randi.org put it: He was simply saying that if there's any terrorism, 'we know who [to] blame.' Then [he] mentions the 1993 bombing and Bin Laden in the same video, therefore, he predicted the 9/11 attacks apparently."
Source:
trutv
Subscribe Our Newsletter
Join over 3,000 people who get free and fresh content delivered automatically each time we publish.



Respected Readers:
To help us go ahead with the same spirit, a small contribution from your side will highly be appreciated.